VESSEL CLASS
KE [2] A2 ATO "Rack" Russian Maritime Register of Shipping
PURPOSE
Ship with grout treatment facility is intended to receive and treat LRW with radioactivity concentration of max. 10-5 Ci/l produced at nuclear submarines dismantlement as well as for solidification of derived concentrates by means of cementation.
DESIGN FEATURES
Rectangular ship with cutaway bow and stern, with stabilizers arranged aft, with a three-tier superstructure, with an auxiliary engine room and an accommodation located aft.
Eight transverse watertight bulkheads up to the upper deck subdivide the ship into nine watertight compartments.
LRW independent tanks are located in two adjacent compartments arranged forward from the midship. Treated water tanks as well as observation and overflow tanks and a pump room are located in two adjacent compartments arranged aft from the midship.
The fore part of the superstructure is fitted with LRW treatment plant, a cementing unit with cement bulk storage and a storeroom for loaded drums as well as spaces providing operation of the treatment plant and cementing unit.
Maintenance crew of 26 persons work four shifts. Max. persons in the shift are 9.
SHIPYARD
Komsomolsk-on-Amur, built in 2000.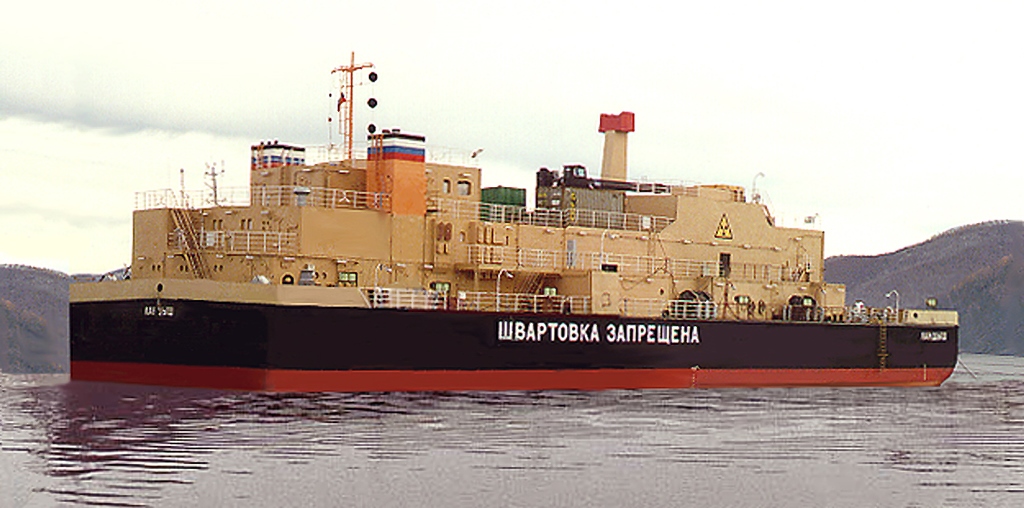 Main Features
Length overall, m 65.0
Breadth overall, m 23.4
Breadth moulded, m 23.2
Depth, m 6.6
Draft, m 3.4
Capacity of tank for contaminated water, m3 800
Capacity of tank for treated water, m3 800
Mean capacity of the LRW treatment plant, m3/day 35
Power plant
Diesel generators, pcs. x kW 3*360
Emergency diesel generator, pcs. x kW 1*65
Steam boiler, t/h 2*1.5
Chief Designer
V. M. Shmakov, V. B. Belyanichev