VESSEL CLASS
KM Arc5 [1] R2 AUT1 FF2WS DYNPOS-2 EPP Supply Vessel, Tug of Russian Maritime Register of Shipping
PURPOSE
Supply of offshore oil and gas facilities with process fluids and bulk cargo, inventories; operations with anchors and moorings of the offshore oil and gas facilities; erection and underwater engineering operations with underwater diagnostic vehicles and container-type diving equipment; monitoring and maintenance of subsea pipelines; keeping of rescue and emergency watch; fire-fighting at emergency facilities; evacuation of crew; people recovery from water andimmediate treatment of rescuees; containment and response of emergency oil spill; transportation of shift drill team.
CAPACITY
Fuel gas (LNG), m3 265
Diesel oil, m3 715
Lube oil, hydraulic oil and thermal oil, m3 35
Fresh water, m3 265
Ballast, m3 1150
Drilling waste water, m3 1150
Drilling mud, m3 990
Brine, m3 160
Collected oil, m3 1155
Cement, m3 210
Cargo deck area, m3 510
SHIPBOARD EQUIPMENT
Anchor/mooring winch, pcs. 2
Mooring capstan, pcs. 2
Liferaft, pcs. x pers. 8x18
Thruster, pcs. x kW 2x1000
SPECIAL EQUIPMENT
Erecting crane, t x m 7x20; 20x10
Maintenance crane, t x m 2.7x20; 7x6
Cargo crane with telescopic boom, t x m 0.38x15
Towing winch, pcs. x kN 1x1000
Cargo winch, pcs. x kN 2x100
Fast rescue boat, pcs. x pers. 1x6
Device for people recovery from water, pcs. x pers. 1x6
Work boom boat, pcs. x pers. 1x8
Monitor, pcs. x m3/h 3x1200
Fire pump, pcs. x m3/h 2x2100
Four 20' containers for OSR equipment
Set of light diving outfit
Container-type diving equipment for operation at depth down to 60 m
Diving single-arm davit 0.750 kg at constant outreach of 2 m
Container-type underwater diagnostic equipment with remotely operated underwater vehicle of diagnostic class for operation at depth of down to 80 m.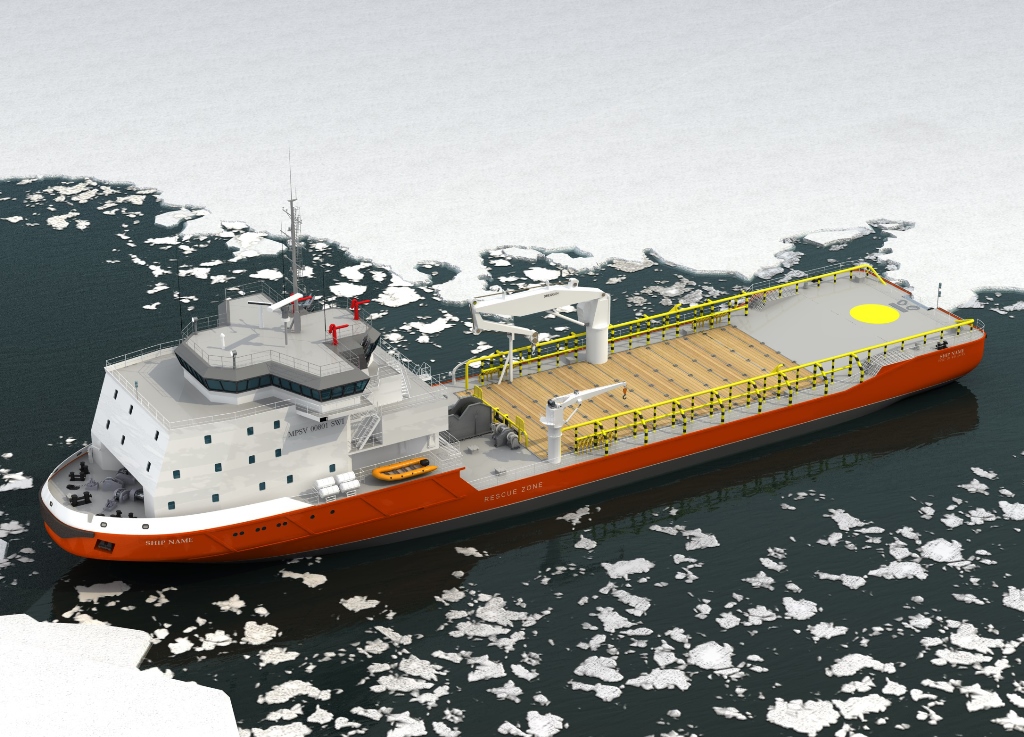 Main Features
Length overall, m 93.0
Length between perpendiculars, m 84.5
Breadth overall, m 21.0
Depth, m 5.3
Design/max.draft, m 3.0 / 4.2
Design/max. deadweight, t ab. 957/ ab. 3000
Speed, knots 13
Endurance, days 30
Crew/special personnel, pers. 20/4
Number of berths for rescuees, pcs. 73
Bollard pull, kN 440
Power plant
Type - diesel-electric dual-fuel power plant driving two ice rudder propeller with a capacity of 2000 kW
Main diesel generator, pcs. x kW 4x1600
Harbour/emergency diesel generator, pcs. x kW 1x250