VESSEL CLASS
KE R3 - RSN Pontoon for transportation services of Russian Maritime Register of Shipping
PURPOSE
Multi-purpose transport facility intended to carry heavy-weight and large-sized metal structures for offshore construction in the Caspian Sea as well as to carry cargo in the river Volga.
DISTINCTIVE FEATURES
The prime operational task of the pontoon is to draw the drilling rig LSP-1 built at at Astrakhan Shipbuilding Production Association (ASPO) through the Volga-Caspian channel to the place of operation in the North Caspian (oil field n.a. Ju. Korchagin).
Area of navigation – the river Volga and the Caspian Sea to the North of parallel 440 30' at the wave height of up to 2.0 m with 3%-probability (March-November). The transport pontoon has its own power plant to provide the operation of the high-duty ballast system and to serve the own needs. Ballasting of the transport pontoon is performed by one operator from the control panel. Sevan was reequipped from the fuel oil barge project 426М with increase of the cargo-capacity due to the refitting of the anti-torpedo bulges and increase of the ship breadth.

DESIGN FEATURES
Non-self-propelled single-deck pontoon with plane-faced lines, anti-torpedo bulges, with a forecastle and a wheelhouse on the forecastle, with an engine room arranged fore.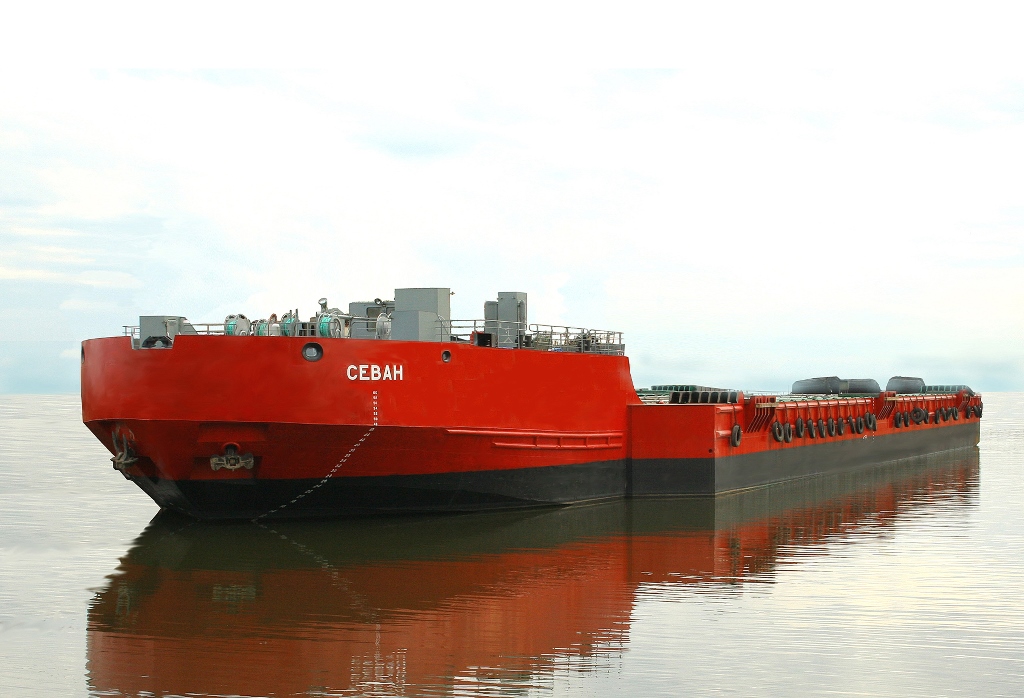 Main Features
Length overall, m 124.85
Length extreme, m 124.2
Breadth overall, m 27.5
Breadth moulded, m 27.2
Summer draft, m
- in the river 2.75
- in sea 2.67
Lightship draft, m
- fore 1.11
- aft 0.8
Lightship displacement, t 2352
Cargo capacity at summer draft, t 5040
Ballast tanks capacity (11 pcs.), t 11940